Upcoming Events
We will begin worshiping at the United Church of Christ, 321 N. Center Street in Plymouth, on Palm Sunday, March 28 at 8:30 a.m. for in-person worship. On Thursday, April 1st, we will have a Maundy Thursday worship service at 7 p.m. On April 4, Easter Sunday, we will worship at 8:30 a.m. at the United Church of Christ, and have a second service at Centennial Park in the Freyman Shelter (behind the tennis courts) at 10:30 a.m. Please bring your own chairs to the park and prepare to mask and socially distance for all services. Worship will be live-streamed (except for park) and available via FaceBook and YouTube as we have been doing, for those who are not ready to gather in person.
Support for Ukraine
The Indiana Conference recently donated $10,000 of its Disaster Relief fund to United Methodist Committee On Relief (UMCOR) and its humanitarian relief efforts as a result of Russia's invasion of Ukraine.
Bishop Trimble said, "I encourage our churches to give generously to help our brothers and sisters overseas. Through this disaster, we have already seen the value of our Connection, as the aid coming through is helping connect families that need shelter with United Methodists in nearby countries."
If you or your church have been wondering about tangible ways to help those suffering amid the tragedies we have seen reported, you are encouraged to support the UMCOR response. Remember that one hundred percent of all Advance contributions go to the designated cause.
Donations can be made directly to UMCOR, Advance #982450. Or donations can be made to the Indiana Conference. Or text the word "Ukraine" to 855.389.1555.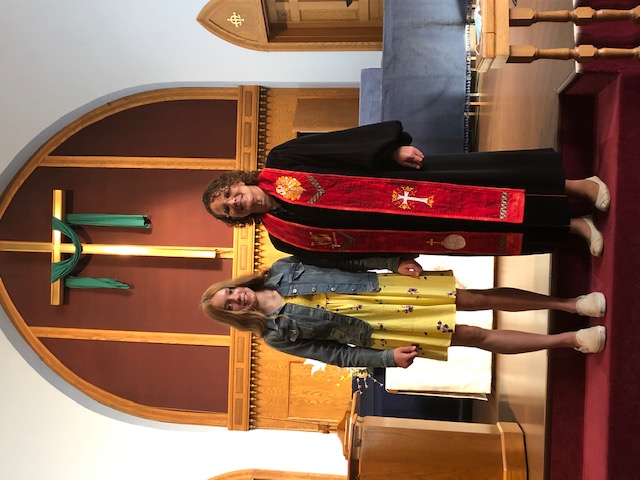 Our New Pastor: Lauren hall
The Staff Parish Relations Committee has had the pleasure of meeting our newly appointed pastor, Lauren Hall. Her contract will begin in July. We will be scheduling meetings to meet and greet Lauren and her daughter Rowynn at that time (and yes that's the correct spelling). This is some background information Lauren provided us about her journey into ministry. (Introduction by Judy Stump, Chair, Staff Parish Committee.)
I grew up in a small, rural community in northern West Virginia located about an hour's drive from Pittsburgh, Pennsylvania. Although Bethany, WV is considered an established town, it primarily existed to support the faculty and staff of Bethany College. It had one grocery store, one church, a post office, a firehouse, and an elementary school. Every other place of business was associated with the college. This is where I established my roots. When I wasn't going to school, I participated in 4-H, school sports, Christian Youth Fellowship, and I helped our neighbors with some of the chores on their dairy farm. We spent our summers with our family in New England, where I developed a variety of hobbies, including reading, writing (both poetry and fiction), running, and exploring nature.
How exactly did | end up in Indiana? It's a long story, but as I look back on my journey, I would have to say that God led me here. When we have time perhaps I'll share the entire story over a cup of coffee, but for now I'll simply share that I have had a number of experiences ranging from working at Pizza Hut and 7-11 to serving in the US Army to coaching High School track and cross country to teaching Environmental Education to New York City children to finally, developing a Christian Camping Program at Camp Crosley YMCA, which is where I discovered my passion for Youth Ministry. All of these experiences deepened my relationship with Christ, ultimately led to my discovering my call to ordination, and they have all played their part in preparing me for my role of leading the church.
I graduated from Virginia Tech University and Saint Paul School of Theology and hold an undergraduate degree in English Education and a Master's Degree of Divinity. I am currently working on my Doctorate of Ministry with a specialization in Leadership for Transformational Change. Prior to my graduation from seminary, I spent many years working in YMCA camping, developing Christian programs for children and youth. Before receiving my first appointment as the Associate Pastor at South Bend Grace, I served as a Youth Pastor in my home church in North Webster, IN and also at Broadway UMC (now called Keystone UMC) in Kansas City, MO. I also served as the Lead Pastor at South Bend Southlawn UMC, Peru Main Street UMC and most recently, Senior Associate Pastor at West Lafayette First UMC.
My personal life is relatively simple. I enjoy being outdoors and I like to relax over a cup of coffee. In addition to serving the church, you will usually find me involved in some way with ministries that serve the poor. I love volunteering to coach track at the local schools, and I enjoy attending the concerts, plays and sporting events of the youth in the church. I have one daughter, Rowynn, who has many interests, including track, social media, video games, nature, and cats. Second only to God's grace and salvation offered through Jesus Christ, she is the greatest blessing God has ever given me.
I firmly believe that the grace and love of Christ is personally experienced and shared in the way we live our lives. I can't wait to meet you!
Blessings,
Pastor Lauren Hall